WordPress became the number one CMS used by millions of people across the globe. Any kind of website, blog, portfolio, forum, portal etc. can be created using WordPress. With the help of thousands of themes and plugins in the official WordPress repository, we can extend the functionalities of WordPress as and when needed.
WordPress, being a fully open source CMS, brings a big risk of issues associated with it. Everyone knows the code and how does it work. A little carelessness and you end-up in compromising your WordPress powered blog/website. Yeah, that is true.
Since WordPress is an open source CMS, all the bugs and limitations are known to the public. It is no hard to find a loophole to enter into a WordPress site, provided it is not being secured manually and/or by some third party tools/plugins.
The major role is of third-party security plugins to enhance the security of a WordPress blog/website. Recently, I came across one more security plugin for WordPress, and I found it simply amazing. Here I write a brief review of this plugin names Security Ninja Pro.
The Security Ninja Pro has the following modules which we can call as features:
Core Scanner
As the name implies, this module scans the core WordPress installation files in a single click. It checks and tells if any file(s) is found problematic and allows an option to fix them. This is very useful if some or many core WordPress installation files are accidentally edited/deleted or there are exploits in the files.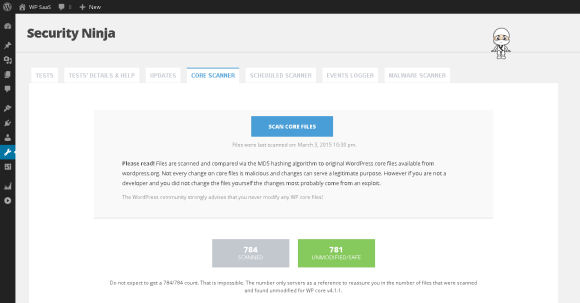 Malware Scanner
This module allows an admin to scan the WordPress installation for any malware. The UI is very simple and easy to use. With this module, a user can scan all the theme and plugin (both active and disabled) files as well as the files inside the wp-content folder. This also scans the database table options. Once this scanner finds any suspicious files, we can have a closer look at them and take appropriate actions e.g. whitelisting the files, deleting them etc. This module is well optimized for large WordPress installations.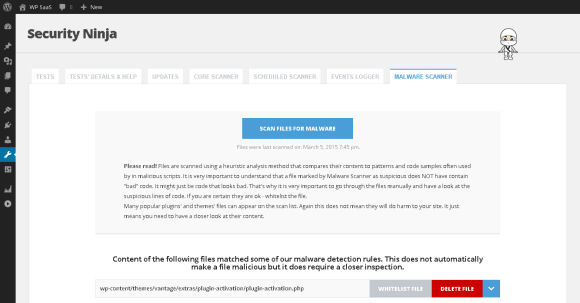 Auto Fixer
This module is specially designed for beginners, who don't have much idea about PHP code or anything. With the easy-to-use GUI, a user can scan and fix more than 30 issues quickly. This module also takes an automatic backup, if in case something happens wrong. Also, this module explains in details all the fixes.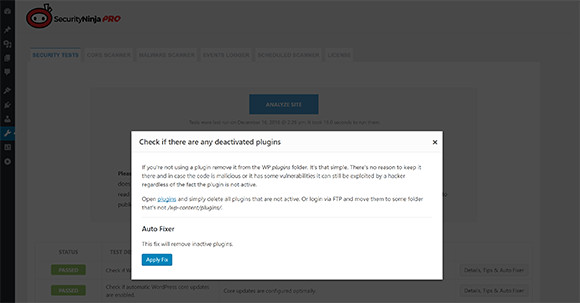 Cloud Firewall
This is a very powerful module from Security Ninja. This module majorly stops unauthorized logins to a WordPress site. For example, login from brute-force attacks. It also has a list of around 600 million bad IP addresses. So, if someone from any of those IPs, tries to login to the Security Ninja powered site, will be banned. This list updates automatically regularly. Also, if a user fails to login multiple times in a short span, it will be banned.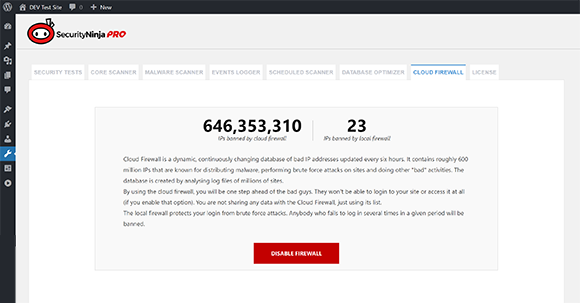 Events Logger
Event logging is one of the best practices towards the security of any software application. And, Security Ninja brings this extended feature for your WordPress site. It monitors, tracks and logs more than 50 types of events on the WordPress site. This records the events with complete details. Analyze the events and take necessary action if you find something suspicious or problematic. Also, you can receive email alerts for a group of events you selected.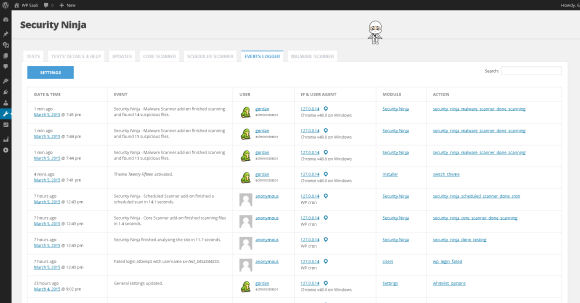 Database Optimizer
This is helpful to optimize the WordPress database and speed up the site. Over the time, some residual and garbage data keeps accumulating into the database, which makes the site slower. This module takes care of this problem.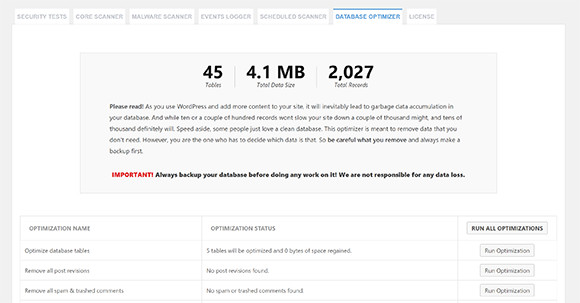 I have explained the features of this plugin in fewer words, but that doesn't mean that this plugin is not that powerful. Because less is more. So try out the Security Ninja Pro plugin right away and secure your WordPress site.